Want to lower your electric bill? Ask us about affordable solar energy for your home or business.
There are two things that have steadily increased the average household electric bill. One is related to how today's families live– we have a lot more electronics than previous generations had. The other is related to increases by the power companies. While you might have some control over the first, you have none over the latter. What you can do to reduce your electric bill or even eliminate it completely is investigate solar energy. Take control over your electric bill.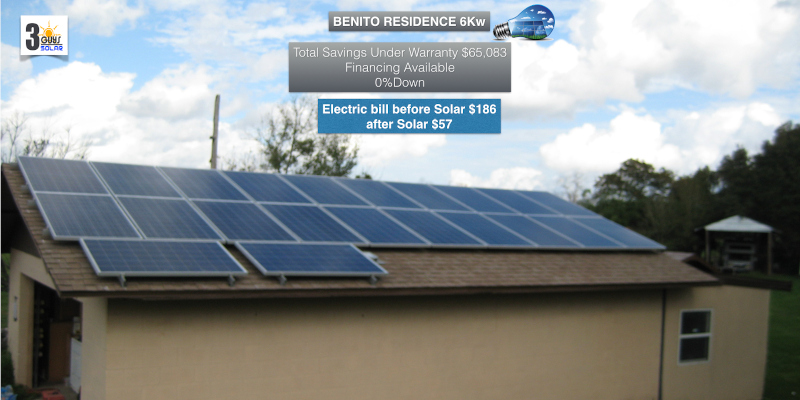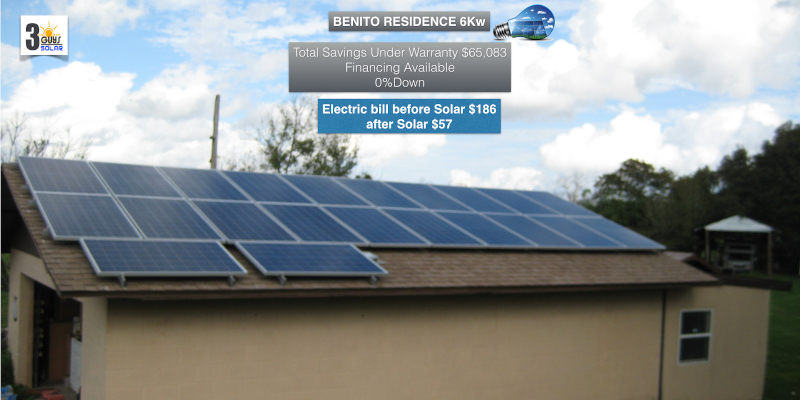 At 3 Guys Solar, LLC, we can help you end that nervous feeling when you open your electric bill. Whether your goal is just to reduce your electric bill or supply all your family's power needs with solar energy, we can design and install the system that will accomplish it.
If you have been holding out on moving forward with solar energy because you feared it was an investment that never paid for itself, you are in for a surprise. Solar energy has never been more affordable, and we can make it possible with convenient financing, including an option to pay zero down and nothing for 90 days. Instead of waiting decades for your energy savings to cover the cost, it takes just a few years now.
We work with some of the best solar energy manufacturers in the country to bring you high-efficiency solar panels and the other necessary components. We believe you'll love how long their warranties last, too! Combined with our expert installation and our service and maintenance services in the years ahead, we are confident you'll never regret making the investment into solar energy. We also install solar energy systems at commercial properties. Call us today with any questions you might have.

FAQs About Solar Energy
At 3 Guys Solar, LLC, we understand that the idea of investing in solar energy can seem a bit daunting. When it first came out, there was too little information to go on. Now, the reverse is true. There is so much information that it can make your head spin. The good news is that we are here to address all your questions, so you can make an informed decision about whether the installation of solar energy at your Orlando, Florida home makes sense for your situation. Here are a couple of common questions to get you started, but feel free to reach out with others you might have.
Does having a solar energy system in place reduce my family's carbon footprint?
Yes! As an estimate, each kilowatt hour of energy produced by your solar energy system instead of being drawn from the grid lowers carbon emissions by roughly a pound. That might not sound like a lot, but when you consider that the average household uses roughly 1,000 kilowatt hours per month, it can add up pretty quickly.
What happens to solar energy that my family doesn't use?
In simplest terms, the solar energy generated is sold to the power company and then you purchase what you need back from them. Some days, you'll sell them more than you purchased, and other days, it goes the other way. If you produce less than you use during the billing cycle, you'll receive a bill from the power company for the difference. If you produce more than you use during the billing cycle, the credits carry over to the next month.