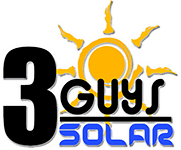 At 3 Guys Solar, LLC, we believe the time has never been more perfect for reducing your energy costs by installing solar panels at your Orlando, Florida home or business. With our licensed solar installation company founded on the principles of honesty and integrity, you can rest assured that every aspect of your project will be handled to your complete satisfaction. One of the ways we ensure our customers are happy is by fully explaining the steps involved in the process of adding solar to your property. Here are the five steps that go into every project.
Give us a call now
407-865-9338
Step 1: Consultation– The purpose of the initial consultation is to give you a basic idea of what is involved and what the potential benefits are for considering a solar energy system. We'll handle this consultation online via Zoom meeting or in person, taking care to answer all your questions so you can decide if you'd like to move on to the next step. We can also go over financing options during this visit.
Step 2: On-Site Survey– For you to have all the pertinent information relative to your property, we need to come to your home or business. At this point, we will measure your roof or area of installation and provide details on if what you want to accomplish is possible. We will check out the roof and other aspects of the structure and answer the more specific questions that might come up at this stage.
Step 3: Design, Engineering, & Permitting– Once we've determined that the project can be done, we can get into the nuts and bolts of the planning. At this point, we'll design your solar project, put together the engineering documents, and present them to the county and utility company for permits and approvals, as well as your HOA if necessary.
Step 4: Installation– Once the plans have been approved, we will reach out to you to schedule the installation. Depending on the scope of your project, it can take us one or two days to complete the work. Before we arrive to do the installation, we'll have our production manager discuss what to expect in more detail so your installation can go smoothly. Feel free to let us know if there are any specific situations that we need to work around.
Step 5: Final Inspection, Interconnectivity Process & Training– You won't be able to use your system the same day we install it, as it will need to go through a final inspection by the county to be sure the project has been done to their satisfaction. In addition, it must also go through the interconnectivity process with your power company. Once these tasks have been done and it is time to begin enjoying your energy savings, we will go over the system with you at great length to be sure you know exactly how it works. We will also set up and explain the monitoring app, initialize the system, provide all warranty documents for your records and address any remaining questions you have.